What we do
SEDLBAUER AG is a globally recognized provider for quality solutions in the areas of electromechanical assemblies and systems, medical technology, inductive components and electromobility.
With a comprehensive technology portfolio and high "in-house" added value, SEDLBAUER AG offers holistic, individual and market-oriented solutions at an optimal price-performance ratio.
Our products
We not only provide individual and holistic business solutions, but our customers also have our entire product inventory at their disposal:
Polytronik® toroidal transformers (standard program Basic and Premium)
Inrush current limiter and DC line filter
polyHEAT® – Connection device for infrared heaters
Medical isolation transformers (polyMIT® and MTT)
Power supplies (Deutronic certified partner)
Charging stations for electric vehicles (SlimBox, SlimBox "E", SlimBox Pro, AC charging station "E-Tower")
SEDLBAUER products are Made in Germany for maximum quality, functionality, safety, and reliability!
Our portfolio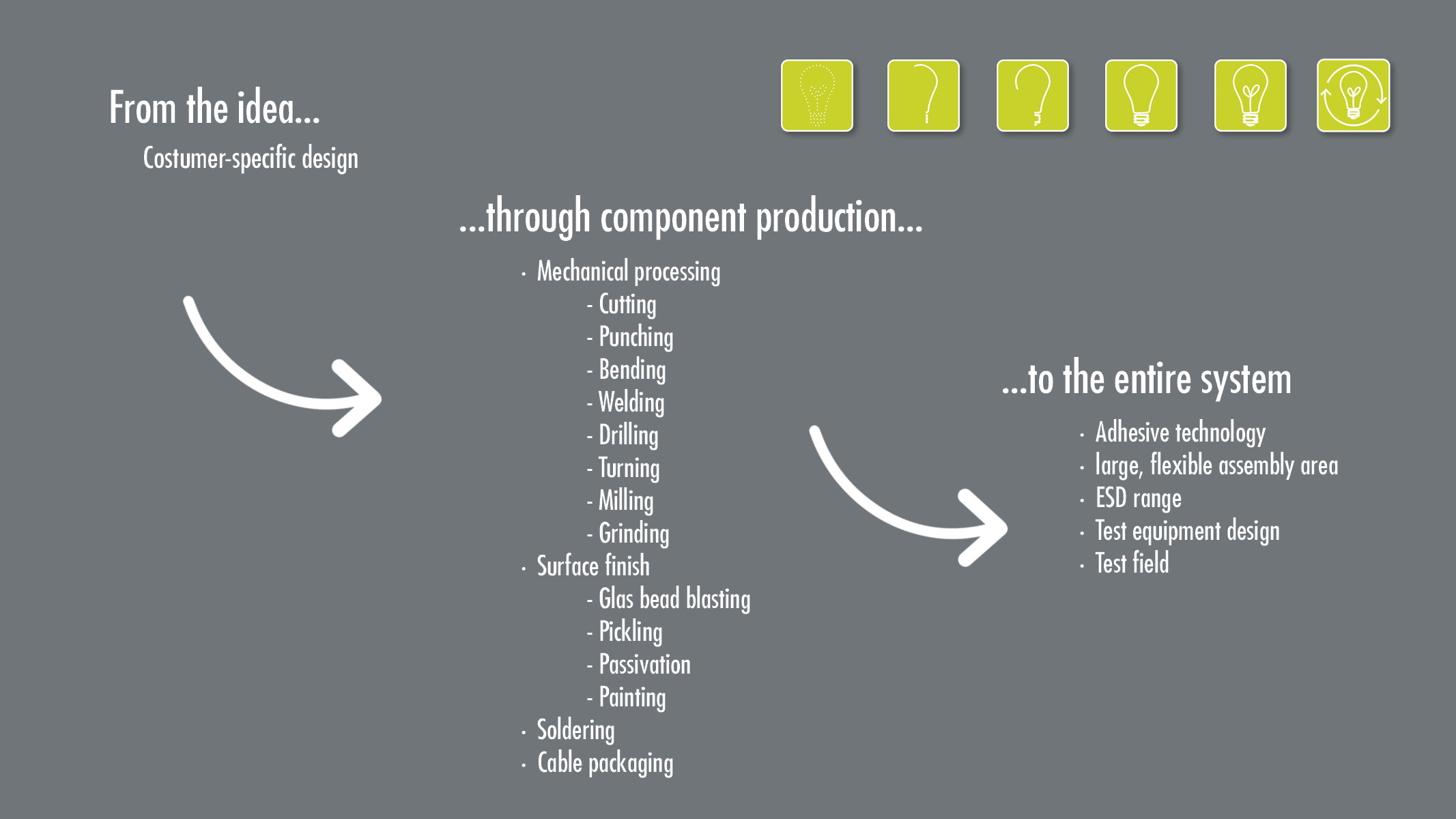 Our customers
Our customers come from a wide range of industries, including:
Our products can also be used in a wide range of other industries. No matter your industry, we would love to partner with you.
Our values
Responsibility, quality and innovation
We act responsibly. We assume responsibility towards our customers in order to remain a reliable partner; and we assume responsibility for our employees, as we wish to remain an attractive employer. We also assume responsibility for the region which we have called home since 1961.
We are quality-conscious. The name SEDLBAUER stands for a 12-decades-long tradition of consistently high quality and reliability. Since our founding, our aim has been to meet the high demands placed on products "Made in Germany."
We are innovative. We are pioneers in the industry thanks to the energy and creativity of our employees. We are committed to innovation by developing system solutions and integrating systems for your sustained business success.
We place these demands on ourselves and our daily work, and act according to the principle of sustainability – environmentally conscious, economical and social.
Our strengths in a nutshell:
Concentrated expertise in design, development, construction, production, assembly / electrical assembly, all from a single source
Individual and market-driven solutions at an optimal price-performance ratio
We offer individualized products, as well as our own
We focus on quality and longevity to ensure long-term customer satisfaction, not fast & cheap products
We have a long track record in the field that comes with decades of experience
Through the partner companies of the EDWANZ Group, we can offer our customers even more! (See below for details)
The EDWANZ Group: Added value for our customers
As a partner of the EDWANZ Group, SEDLBAUER offers its customers a wide range of options by partnering with Deutronic and b-plus. Each company has an individual portfolio, to which our customers have full access. By working together, we can offer our customers even more options, which means you can do everything all in one place to save the work, time, and money that would have been spent seeking multiple service providers. In addition, there is a continuous exchange of knowledge and experience between all departments in workshops and project work, which in turn benefits our customers.
Learn more about the EDWANZ group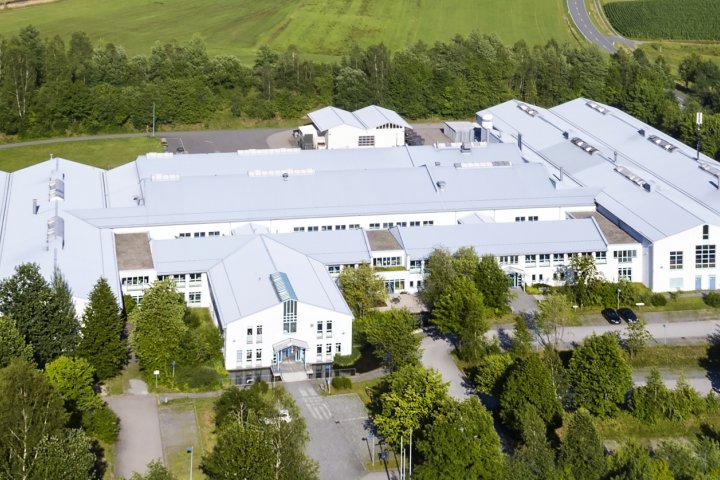 Company building headquarters Grafenau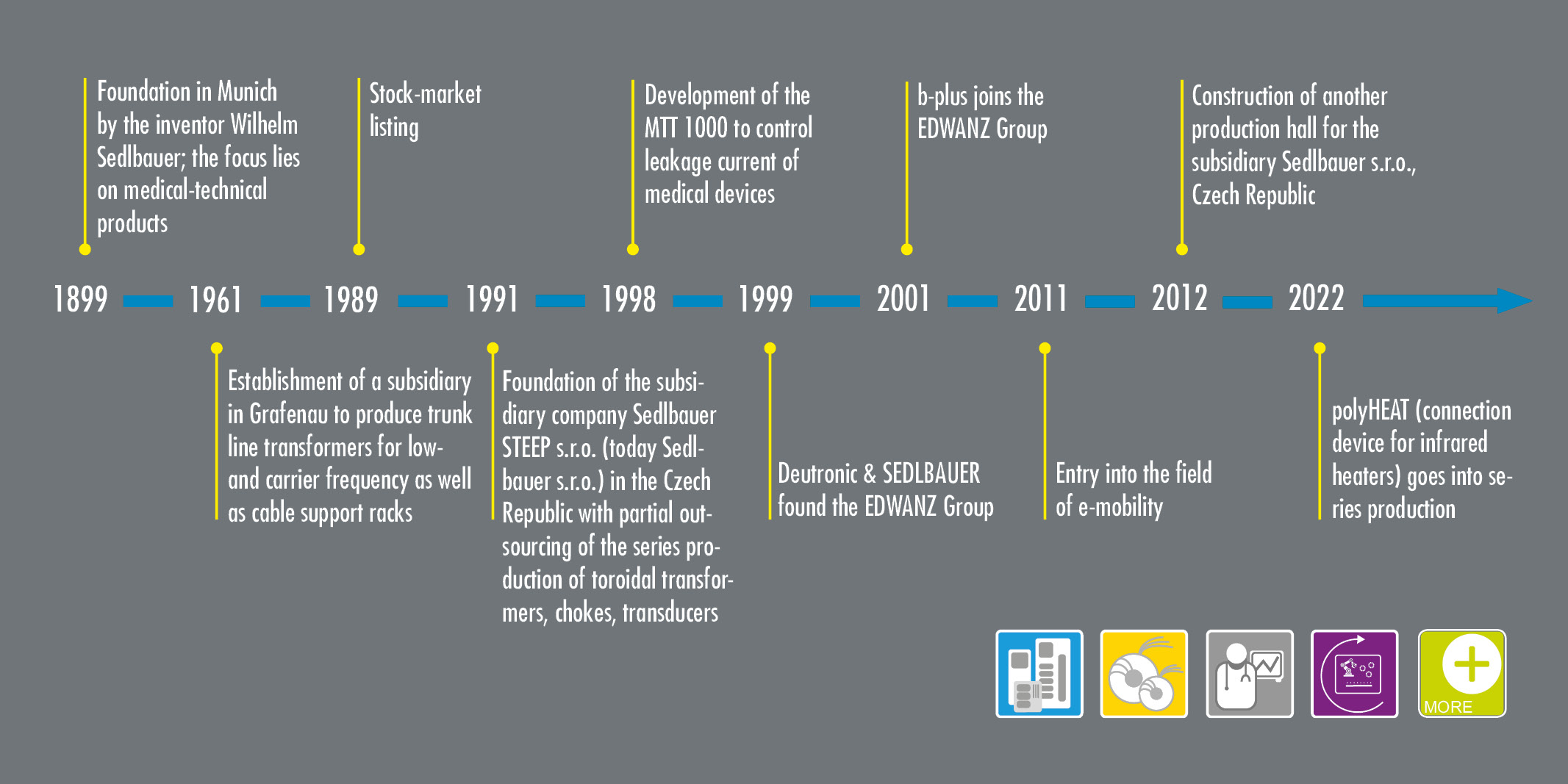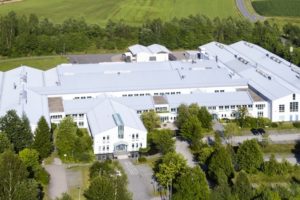 SEDLBAUER AG
Industriegebiet Reismühle – Grafenau (DE)
Headquarters of SEDLBAUER AG, assembly area 2900m², mechanical production 3700m², ESD area and test field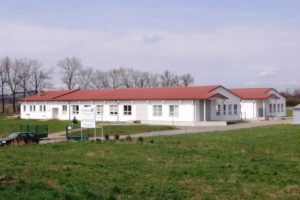 SEDLBAUER s.r.o.
Čičenice (CZ)
Sedlbauer s.r.o. is a 100% subsidiary of SEDLBAUER AG with headquarters in Číčenice (CZ). This is where our toroidal transformers, chokes, transformers and assemblies are manufactured.
We are certified according to DIN EN ISO 9001 and EN ISO 13485
We meet the requirements for a quality management system according to DIN EN ISO 9001. We have been certified according to the latest version of ISO 9001 standard since April 1st, 1995, which guarantees that we have implemented comprehensive quality management across our entire range of products and services, and that we live up to our high quality standards.